Notable viewing experiences of feature films from the past year.
---
2022 Films
After Yang (Kogonada, 2022)
A masterpiece. Kogonada is a genius. Cinematic storytelling at its finest. Beautiful and brutal and brilliant. An exquisite film. Anyone who has ever thought of writing a screenplay should be in awe of this triumph. An astounding 90 minutes.
---
Everything Everywhere All at Once (Daniels, 2022)
A masterpiece. Put it in The Louvre next to the Mona Lisa and Big Trouble in Little China.
---
Nope (Jordan Peele, 2022)
I love Peele's confidence. He has solidified himself as the next great American auteur making big budget pictures. This movie fucking rules.
---
The Banshees of Inisherin (Martin McDonagh, 2022)
A poignant story about the break-up of two best friends. Wonderfully acted; beautifully shot. Even the bleakest corner of Ireland is pretty.
---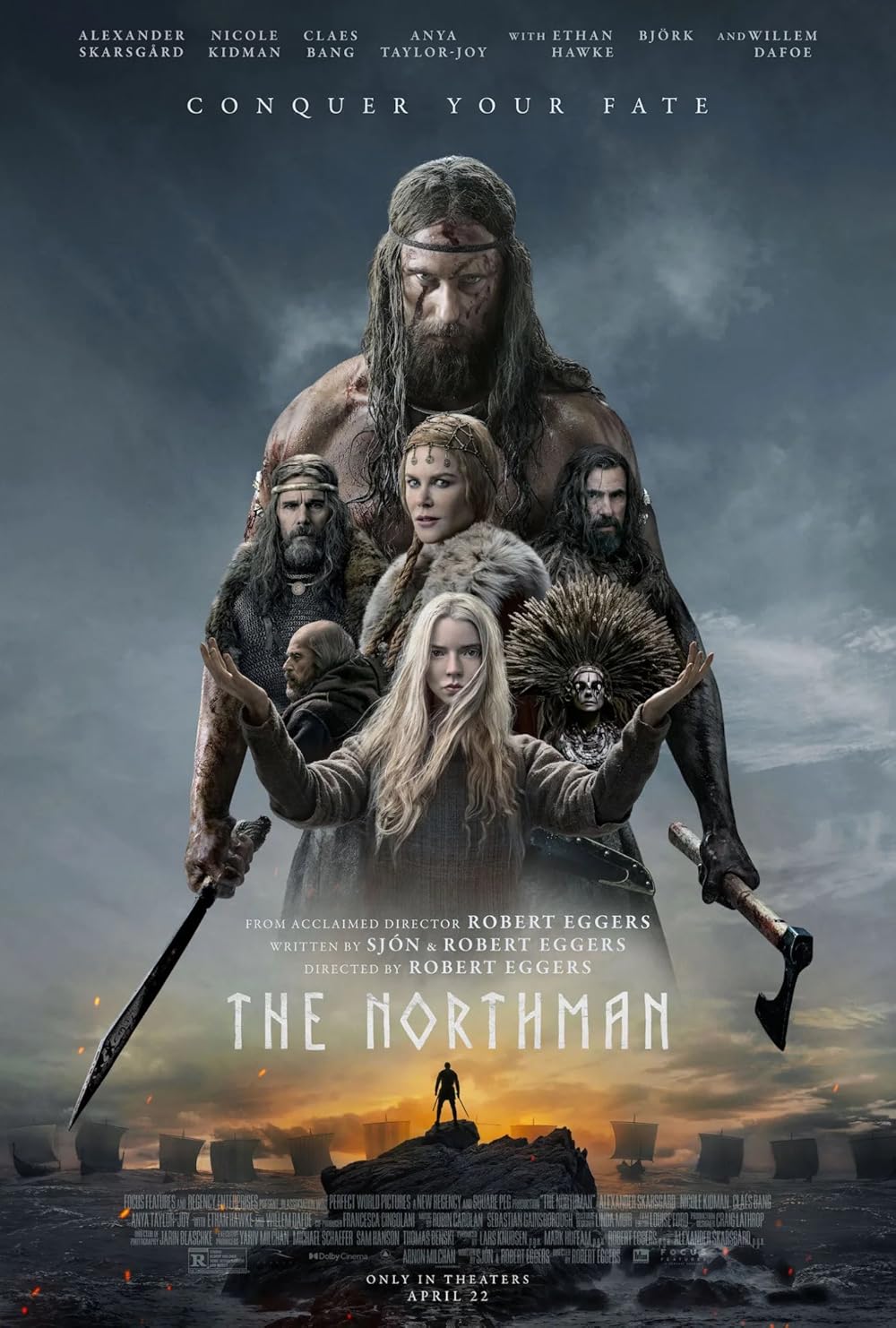 The Northman (Robert Eggers, 2022)
I love a movie that goes all in on the bit. Eggers not only wanted to make a Viking movie, he wanted to make the absolute most Viking movie ever. This guy is on fire: The VVitch, The Lighthouse, and now this.
---
"Sr." (Chris Smith, 2022)
RDJ makes a documentary about his infamous father. A story about underground filmmaking in the '60s and '70s, how drug-laden counterculture can create lifelong personal problems, and how identities are developed across three generations.
---
The Batman (Matt Reeves, 2022)
Maybe not the best Batman. Definitely not the best Bruce Wayne. But absolutely the best Gotham City.
---
Speak No Evil (Christian Tafdrup, 2022)
A fascinating, strange, and well-crafted psychological thriller. Sometimes the greatest horrors are real and ubiquitous.
---
Barbarian (Zach Cregger, 2022)
This kind of movie should become the standard for mainstream horror, especially for those who aren't susceptible to jump scares.
---
Tár (Todd Field, 2022)
Don't believe the hype. A fine film but not the exceptional tour de force it has been touted to be. Blanchett, however, is excellent as always.
---
Men (Alex Garland, 2022)
Not Garland's best work, but he's definitely not afraid to alienate audiences in an effort to say something. So points for that. Can't say that I recommend this, but you'll definitely see things that you've never seen in a movie before.
---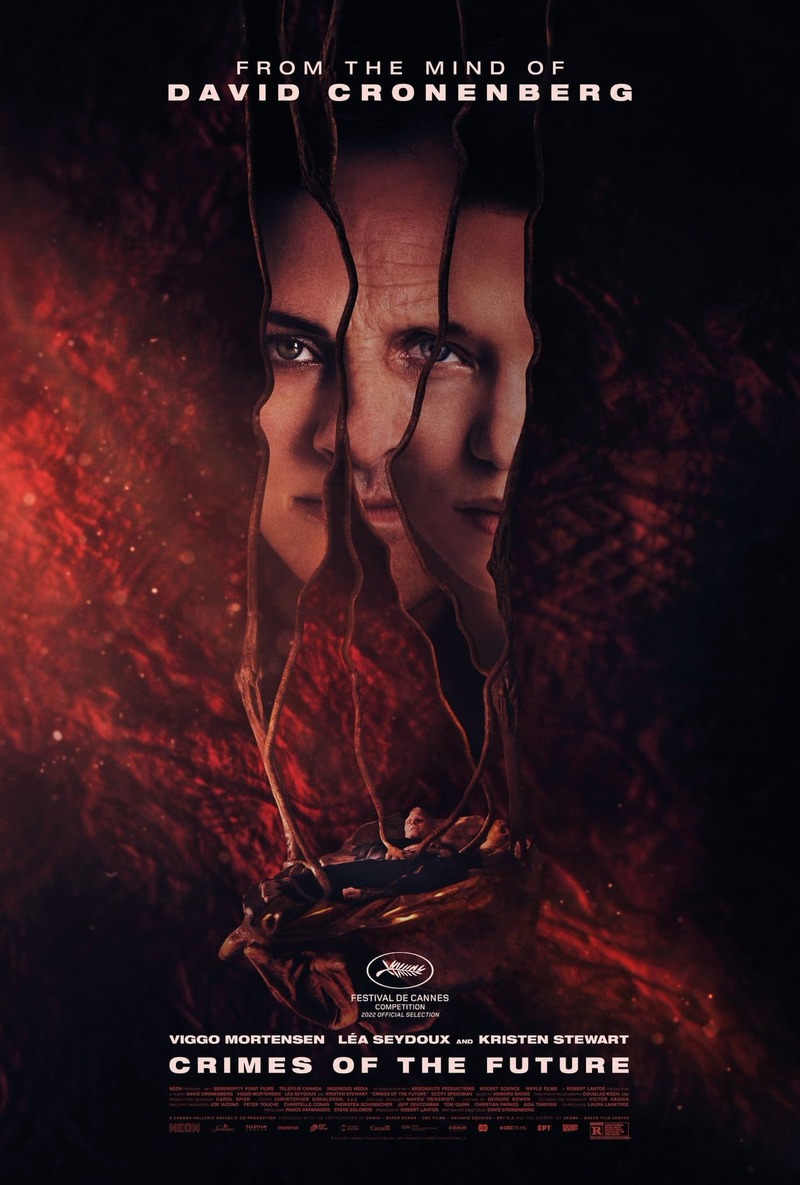 Crimes of the Future (David Cronenberg, 2022)
Palatable body horror in an imaginative alternate futuristic setting where late-stage capitalism literally changed humankind.
---
Glass Onion (Rian Johnson, 2022)
A fun whodunnit and a worthy follow-up to KNIVES OUT. Very amused to consider one of the core themes of the movie relative to the circumstances by which the movie was funded.
---
Top Gun: Maverick (Joseph Kosinski, 2022)
A standard action movie with a substandard script and exceptional practical effects that took the world by storm.
---
X (Ti West, 2022)
The aesthetic is perfect, but the movie is not. There's something just fundamentally correct about a horror movie set in the '70s.
---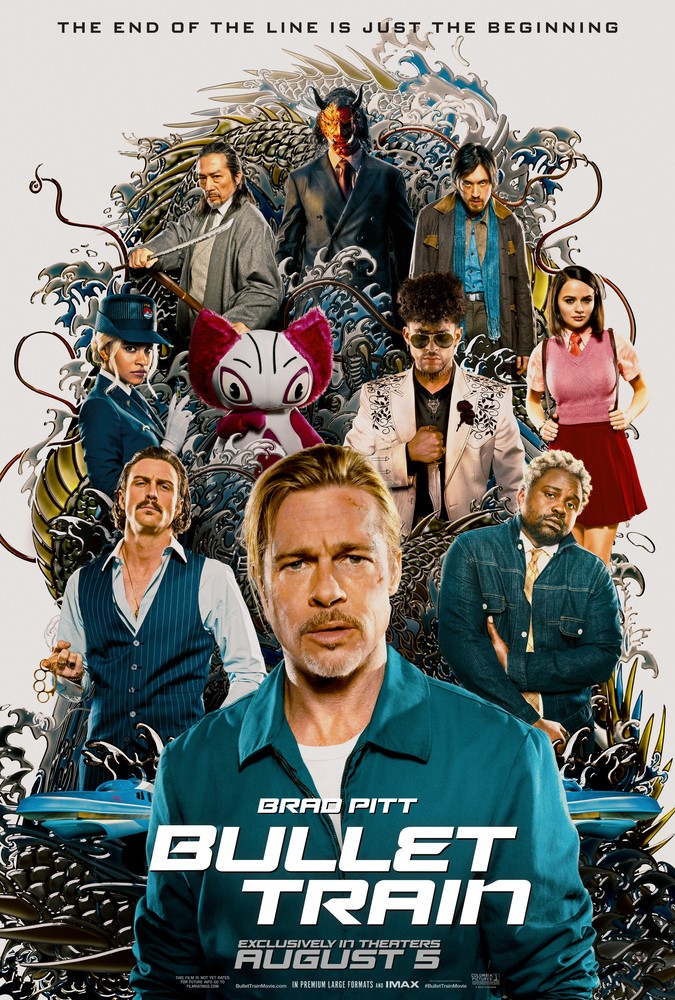 Bullet Train (David Leitch, 2022)
This reminded me of those '90s Tarantino ripoff flicks like KILLING ZOE or GO…only less good and with a massive budget for digital effects.
---